Tecovas, a Texas-based Western wear and boot manufacturer, is making its national debut with its first-ever ad campaign, «Don't Go Gently.» The campaign aims to redefine the Western wear category and make it more accessible and inclusive to a broader audience. 
The ads were created in collaboration with the brand's new agency of record, Preacher, and feature memorable characters and locations that speak to the «wild at heart.»
New Campaign Seeks to Redefine Western Wear and Make It More Inclusive
«How She Rolls,» a 60-second spot, premiered during the CMT Country Music Awards, showcasing a rough-and-tumble bowling alley and Diamondback Donna, a fierce bowler decked out in fire-red cowboy boots to match her rose-inlaid bowling ball.
The ad aims to make the Western wear category less intimidating and more welcoming to everyone, regardless of whether they fit the traditional cowboy mold.
The campaign's second spot, «Check Em Out,» features a lanky cowboy two-stepping through a grocery store, set to an upbeat soundtrack. The ads are music-driven and dialogue-free, with a cinematic style reminiscent of a feature film made by the Coen brothers.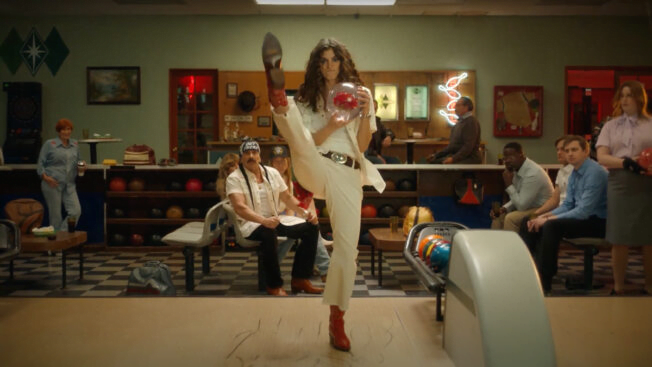 In addition, the campaign intends to attract audiences outside of the country genre by utilizing thoughtfully chosen soundtracks and engaging storytelling.
The ads will air across a range of broadcast, streaming, and digital platforms, including Food Network, Bravo, CW, Paramount+, Peacock, Discovery+, Hulu, and YouTube TV.
They will also be distributed on the brand's social channels, with additional social content on TikTok, Facebook, Pinterest, and Instagram. Print ads will run nationally, and out of home ads will appear in Austin.
Tecovas Takes an Emotional and Cinematic Approach to Broaden Its Audience
The campaign's creative director, Zach Watkins, says the goal was to find bold and interesting characters who look like they've «lived a little hard and fast.»
The team intentionally chose locations with grit and texture, shunning the polished in favor of something worn, weathered, and timeless. The director, Kate Hollowell, brought a mix of experience, including music videos for pop star Katy Perry.
Tecovas is a direct-to-consumer brand that launched in 2015 and has since grown to $200 million in sales. Gillian Kennedy, the chief marketing officer of the company, affirms that the campaign aims to appeal to individuals who push boundaries and are unafraid of standing out and making an impression, much like the campaign's unforgettable stars.
With its emotive storytelling, bold characters, and cinematic style, «Don't Go Gently» is sure to leave a lasting impression on viewers, inviting them to step into Tecovas' world of Western wear and boots.