Samsung is unleashing its latest flagship TV, the Neo QLED 8K, and to promote it, the tech giant has launched a global campaign that features a very grumpy cat. 
Samsung Launches Its New Global Advertising Campaign
In a 90-second film, created by BBH Singapore, the viewer follows the owner of Bebo, a discerning exotic shorthair, as he embarks on a journey to create epic moments that will make his feline say "wow". The goal is to prove that the image quality of the Neo QLED 8K TV has the «wow» factor that even the toughest critic can appreciate.
Neo QLED 8K Makes the Cat's Hair Stand on End
The film is a visual feast, featuring the owner dropping hundreds of colorful balls of wool, donning a suit of infrared lights to dance for Bebo, and other stunning attempts to amaze the cat. Nothing seems to impress Bebo until the owner turns on his new Samsung TV. The image quality makes the hairs on Bebo's body stand on end, and the feline can't help but say «wow.»
Created with production company Immigrant Studio and directed by Rodrigo Saavedra, the film required 30 takes to land the perfect «wow» from the voice actors. The campaign launched on April 3 and will run across various countries, including the U.S., U.K., Brazil, India, Mexico, Australia, Italy, and Singapore.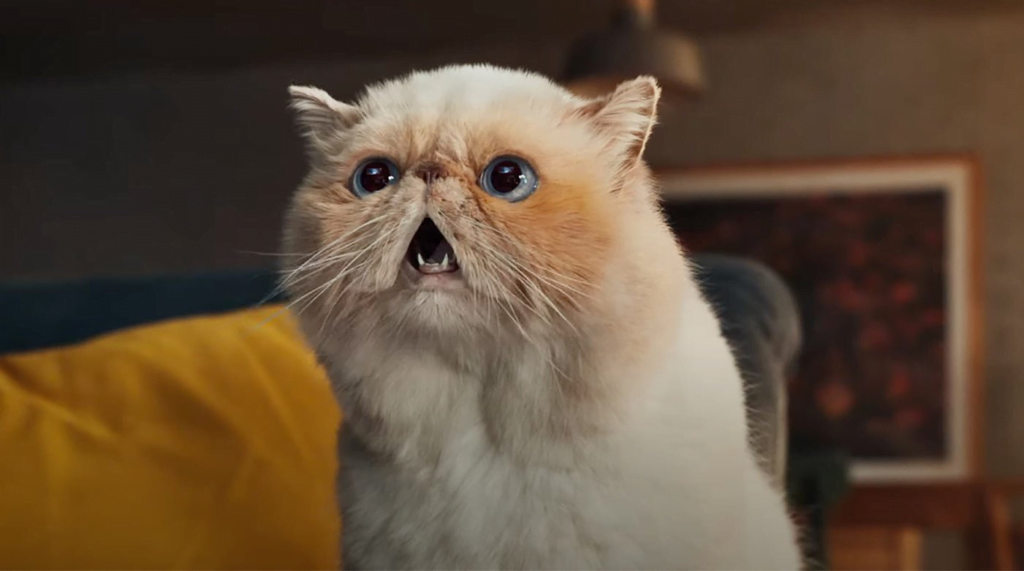 Hyun Min Chun, head of IMC at Samsung Electronics, explained the rationale behind the campaign, saying, «The Neo QLED 8K sells itself. All you have to do is experience it. This sheer confidence in our innovation became our communication strategy. If the world's toughest critic can't help but be impressed by the experience, so will our customers.«
Sascha Kuntze, chief creative officer at BBH Singapore, added, «In the past, Samsung has had many animal guests in their ads, from ostriches to spiders. But we never dared to put one of the most discerning animals in a story: an exotic shorthair with very high standards.»
A Bold Advertising Campaign That Challenges Viewers
This global campaign is a clever way to showcase Samsung's newest product and demonstrate its confidence in the technology. By featuring a fussy feline as the critic, Samsung sets the bar high and challenges viewers to see the difference in image quality. So, if even a picky cat like Bebo can't resist saying «wow,» imagine what Samsung's Neo QLED 8K TV could do for you.